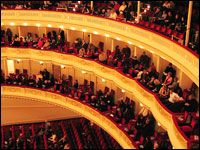 I read Andrew Mellor's article in the New Statesman with great interest. You may not agree with his prose but it's thought provoking nevertheless and has received some strong reactions from many different quarters . Music journalist and author Jessica Duchen has written an excellent article on her blog JDCMB, as has The Cross Eyed Pianist aka Frances Wilson, and George's Musings (George is known as @operacreep on Twitter) to name a few.
It is strange how so many feel classical music can only be enjoyed by an elitist, educated audience. Mellor's article appears to have been inspired by his attendance at a concert in which the programme contained many adverts for private schools.
Mellor suggests that classical concerts are often only attended by snobs, intellectuals and those who have been privately educated. He implies that some classical concert audience members are either elitist or racist. That may be the case and there is no doubt that snobbery exists in all the arts to some degree. However, this argument has been around for years and it seems to drone on without any kind of conclusion or development.
We constantly hear that the young, less wealthy or less 'educated' feel ostracised from or don't want to attend classical concerts because they either can't afford them (yet they seem to buy tickets to pop concerts and football matches with ease which are very expensive by comparison) or because they are frightened off by the apparent intellectual superiority that sometimes shrouds classical music and concert etiquette.
I have attended many classical concerts, operas and ballets  (I've spent a large proportion of my life going to or playing in classical recitals)  and have found them to be mostly frequented by pleasant friendly audiences who are there purely to enjoy the music.
In my humble opinion the only reason that classical concerts aren't attended by the 'less educated' or 'general public' is because they haven't been exposed to this musical genre. Many people wouldn't think of attending a formal concert because they aren't aware  of the beauty and depth found in so much classical music and opera. Therefore they are reluctant to pay to hear classical recitals. It is as simple as that and has nothing to do with elitism.
It all comes back to education – and I don't mean private education. Here's an idea – how about music classes in ALL schools? Why don't politicians decide to do something worthwhile for a change? Let's re-introduce classical music classes for children as young as five years old.  Let's encourage little children to enjoy and appreciate the beauty in classical music before they learn to see it as 'uncool'.
It doesn't cost a lot of money to add extra music classes to any curriculum. It is possible to get everyone, whether they be children, young people or pensioners, excited about classical music if we present it in an attractive way. The 'Big Noise' orchestra and El Sistema illustrate my point perfectly. Then the apparent inability to appreciate classical music and the stigma surrounding concert 'etiquette' may just become a thing of the past and consequently classical concerts might not be full of 'elitists'.